Per O Westman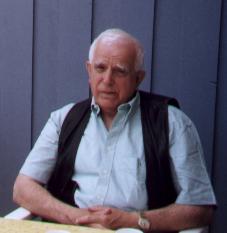 Born in Skövde, Sweden 1927.
Died in Hjo, Sweden 2012
Use to work as an upholsterer during
1941 - 1970 in Skövde as well as in Tibro.

Worked later as a civil servant at
"The Employment Exchange" in
Gothenburg 1970 - 1978 and in
Skövde 1978 - 1992.

I was born 1927 in Skövde as a son of a house-painter - Ernst Westman (1881 - 1939)
- and his wife Emma, born Lindqvist (1895 - 1963). In the family were born five children
- three sons and two daughters. Among the children I was the last but one. Lived in
Skövde 1927 - 53, in Tibro 1953 - 58, in Skövde 1958 - 70, in Gothenburg 1970 - 78
and from 1978 I and my family live in Hjo.

In the thirties most children, like me, went to elemantary school for six years. Twelve
years of age I started to work on my spared time at an upholstery shop and at fourtheen
I got an employment as an apprentice at that shop and in due time I was a full paid
upholsterer and got my journeyman's certificate in 1949. As an upholsterer I worked in
Skövde (22 years) and in Tibro (6 years).

In 1970 I got a job as a civil servant at "The Employment Exchange" in Gothenburg
and worked there for eight years. On my own request I, in 1978, got a transfer to the
same authority in Skövde. I was retired in 1992.

Another pictures:




Picture 1.
The house in Lilla Mörke, Skövde Sweden, where I lived
1927-1948. The part where the family lived is framed.



Picture 2.
The same house in Lilla Mörke. A picture from
winter-time 1942.



Picture 3.
Our house in Hjo where I and my family lived 1978-2008.



Picture 4.

Winter in Hjo, Sweden 1997.