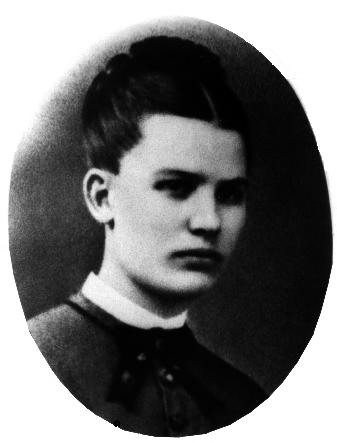 My grandmother (Dad's mother)

Mathilda Johansdotter 1854 - 1947
Born in Fröjered, Sweden 1854.
Died in Skövde, Sweden 1947

Married to August Westman 1978.
Picture
Mathilda Johansdotter was born at a crofter's holding, Orrleka village, Fröjered parish, Skaraborg's county. The youngest of ten children.

Mathilda left Fröjered for Skövde 1872 and was a maid at an eating-house before she married August Westman. When August emigrated to N. America she was left alone with their six children and she had a very hard time before the children were grown up. With washing and cleaning she worked hard at better-class families but she was all the same forced to ask for help at "The Board of Poor-Relief". She got rent allowances during 1893 - 1903 and now and then she also got small benefits from charity fonds.

(Source: Records from meetings of "The Board of Poor-Relief" in Skövde.)

During my childhood my grandmother, and her youngest daughter Ella, lived in the same house where I and my parents lived.

Mathilda Johansdotter died at the age of nearly 93 years. Cause of death: "Decrepitude".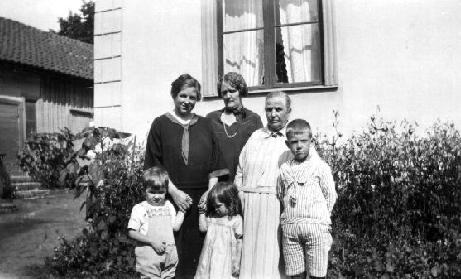 A visitor from USA 1927
Uncle Carl's wife Alma on visit to her mother in law in Skövde, Sweden.
Mathilda Westman is at that time 73 years of age.

In the back line: Emma Westman (my mother), Alma Westman (Carl's wife)
and Mathilda Westman (my grandmother)
In the front line: Hans, Brita and Lars Westman (my sister and brothers)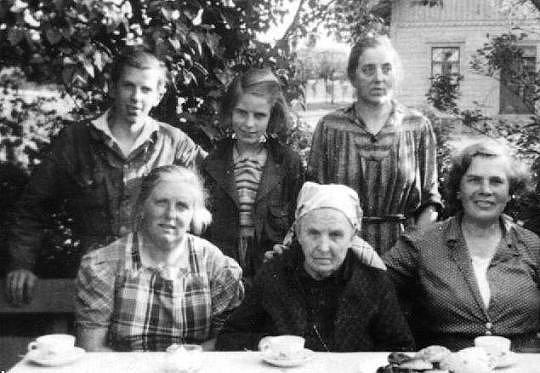 A coffee break in the arbour - about 1940

In the back line: My brother Hans, sister Göta and aunt Ellen Lindqvist
In the front line: My mother Emma, grandmother Mathilda and aunt Ella